Precisely on the 25th of September, I decided to start off a project that is dear to my heart. The Young Adults Road Safety Initiative is a platform i intend to use to preach the gospel of improved safety on all roads.
In as much as the primary target are the youths and young adults, emphasis should be laid that improved safety on our roads is for all-kids, youths, young adults and adults. Moreso, there are no ethnic or financial boundaries. And what we share and learn here should be adopted and shared with others so that through our collective efforts, we can make our roads safer.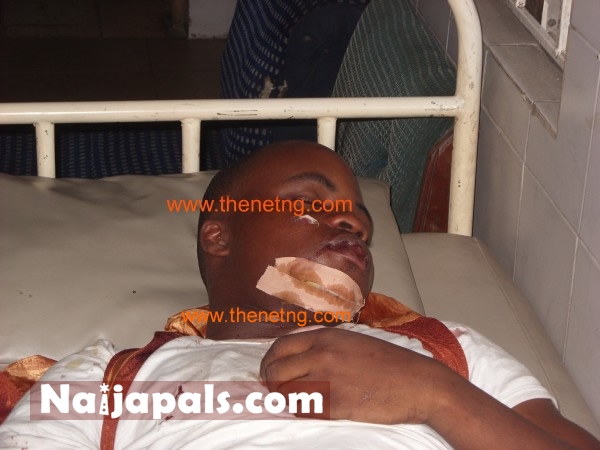 Da Grin After his car crash. Image courtesy of Net/Gistmania.
Youths and young adults are the most active of any nation and make up the bulk of all road users
either as operators of vehicles or as pedestrians. Apart from their high
mobility due to either business, personal or pleasure, this segment of the
society has an increased financial independence that if not properly guided
will be inimical to their success.
The message
of safety on our roads is a continuous exercise. Like me, some of the things
that motivated me into the advocacy were; I remember as a very young boy living
at Enugu then, a couple which were living in the same area with us then drove
to Onitsha for an event and had a crash on their way back. The husband and wife
died immediately.
On the 1st
of Jan, 2003, the FRSC started the enforcement of the use of seat-belts (front)
in cars in Nigeria. But I had started using it much much earlier because I
watched a program on TV where a policeman in the US, stopped a car for a
routine check. When he was done he advised the rear seat occupants to also wear
their belts. Just as he made to turn back to his car, another speeding car lost
control and smashed into the parked car he was talking to, narrowly missing the
officer. The rear-seat occupants thanked the officer for helping save their
lives. Ever since, once I enter any car the first thing I do is to belt up.
So the media
in whatever form is very essential in spreading the message of road safety.
Road crash scene at Calabar, Crossriver State. Image courtesy of Nairaland.
And
importantly, road crashes is a very unfair judge because it doesn't bother
about who was at fault, who is an elder or a child, who is wealthy or poor or
who was even operating the vehicle or was simply being carried or just walking
along, it just affects anything and everything in its path.
Also,
depending on certain conditions, road crashes affects road furniture,
properties and even the environment.
It is also
very imperative to do this program to empower youths and young adults with live-saving knowledge because they form the workforce of any nation, as such, are
the live wire that sustains the economy, so anything that happens to them, affects
the economy of the nation as a whole.
It will
interest you to know that statistics from the World Health Organization, WHO
reveal that ……road crashes kill 1.24 million people annually, out of which a great percentage are
youths and young adults. WHO also predicts that road crashes will by 2020
become the third leading cause of death and disability facing the world
community.
Isn't this
such a terrifying prediction and we are a mere 5 years from year 2020?
Research
also shows that youths and young adults form the group of road users that are
most likely to indulge in risky behaviours that will endanger their lives and
that of other road users.
This makes
it more imperative that more efforts should be channelled towards enlightening
this segment of the population. And as we progress deeper into the 'Ember' months, we
have to contribute towards making this one of the safest 'Ember' months.
The world we
live in now is driven to a great extent by youths and young adults; as such
they are now game changers and influencers through their innovations, music,
movies etc. Hence since i am a young adult, i am now
complimenting the efforts of the agencies saddled with the responsibilities of
enforcing safety on our roads to reach out to you, my 'peeps and hommies' in a
manner you will relate to more. I will use this platform to appeal to you all
that there is an urgent need for a paradigm shift from our initial 'not so
wonderful attitude' on road safety related issues to a more committed and
responsible attitude that will radically reduce the rates and intensities of
crashes on our roads.
But the good
news is that most of these crashes are very avoidable but occurred probably
because one party mistakenly or ignorantly failed to do the right thing on the
road or in some pathetic cases, deliberately carried out selfish actions on the
road that will endanger other road users.
Yes, it
might surprise you to know that some people who want to commit suicide
selfishly want to go out with a bang by taking other souls along with theirs.
Recently a case
was averted in China when a young lady deliberately ran into the path of an
oncoming car in the middle of the street. Luckily, the
driver was able to stop his car just before hitting the lady yet she still
lazily threw herself on the car, you know, like you would have seen in some
Nollywood movies of old, but realizing that people saw through her yeye,
quietly walked away on her own and the driver drove on. This whole drama was
caught on the car's dash mounted camera. Hey, I reported it here…
The usual
norm when preaching road safety is to reel out figures and statistics but we
will also tell you names of some victims and dates of occurrence of such
incidents so that you will see that these figures were not just conjured up by
someone preaching doomsday sermon.
We have lost
a lot of promising young men and women to road crashes, some have been severely
or lightly injured or just got away luckily without a scratch.
We cannot
forget the late Nigerian Musician Da Grin who died from injuries sustained in a
crash at Mushin. Another musician, Mc Loph died in a crash on the 14th
of Sept, 2011 along the Benin-Ore expressway on his way to his traditional
wedding.
Recently, award-winning musical twins, P-Square were involved
in a crash along the Lagos-Ibadan expressway when a truck ran into their Range
Rover Sport, dragging the SUV along though they were lucky to escape without
harm.
President
Barack Obama of the United States lost his father in a road crash in Kenya in
the early eighties. Even our former first lady, Patience Jonathan lost her
mother, Mrs Oba to a road crash at Elele, Rivers State.
The late Professor
Chinua Achebe got paralyzed when he was involved in a road crash while on a
visit to Nigeria.
Recently also,
a philanthropic man who dresses up as batman to visit children in hospitals in
USA was killed in a road crash after suffering a breakdown on his way back from
one of such visits.
A former
member of the Nigerian House of Reps, Mr Afam Ogene and a former governor of
Akwa Ibom State and currently a senator, Mr Godswill Akpabio have all been
involved in road crashes in separate incidents.
Mr Akpabio had to be flown to
London to treat his injuries. Several serving and former governors; Adams
Oshiomole, Idris Wada, Liyel Imoke, Chris Ngige have all been involved or had
their convoys involved in road crashes that either claimed lives, led to
injuries or resulted in heavy loss of properties especially expensive armoured
and non-armoured cars. Even men of our Police and Army have also been killed or
injured in road crashes.
From this
short list, it is obvious that road crashes does not discriminate as it affects
both the rich, elected, kind hearted, highly placed and regular citizens and
armed force personnel without the slightest notice.
Senator Akpabio's SUV after the crash at Abuja. Image courtesy of Linkis.
Like we said
earlier, this program is a call to action for all to follow us as we embark on
this journey to raise a new crop of road users.
I also use this medium to send a
hearty shout-out to all our men and women helping out with improving safety on
our roads all over the nation. We salute your efforts.
On behalf of
other youths and young adults, i pledge that i will be more alive to our
responsibilities and not engage in actions inimical to safety on our roads.
Thank you
for your time and we do hope you will find it worthy to be a part of YARSI and also use our roads safely.